Backlit keyboard 12T-ES HL
illuminated vandalproof number block in stainless steel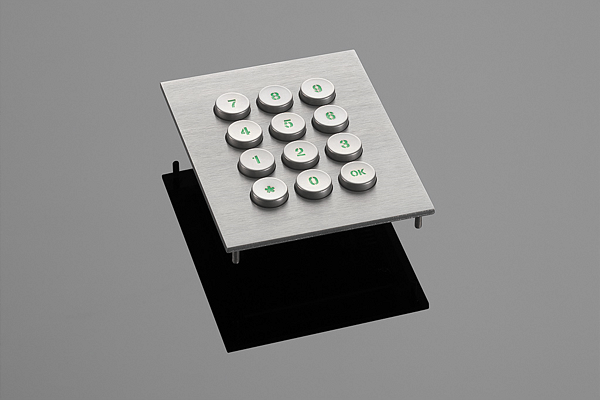 Features
for public (rist of vandalism) and industrial surroundings
all electronic components and mechanical guides are protected against dust and water spray – IP65
Carbon-Contact-Technology
high operating comfort
backlighted symbols
completely in stainless steel construction 1.4301 (buttons, front plate with 3mm strength)
almost resistant against violence
key symbols are done by laser etching
mounting version for prepared slots
connection options: USB, PS/2, Matrix and customized
Technical description
We offer a wide range of LED backlit keyboards, which all have Windows compatibility. Starting with compact stainless-steel keypads and number blocks made of plastic to complete computer keyboards made of plastic or stainless steel – see also the linked "Variants" below.
With all of our keyboards with LED key lighting, only the letters and symbols are individually illuminated and not the complete background. As a result, the illuminated keyboard itself does not appear as bright as with flat backlighting and work under low light conditions is considerably simplified. In particular, our plastic industrial keyboards with backlit individual keys are also suitable with their USB connection as a retrofit solution especially for industrial applications. Because of the wired operation, the lighting is not affected by short battery life, because a permanent power supply via USB cable is guaranteed. Furthermore, our LED keyboard lights are not only dimmable, but can also switch off automatically in daylight.
Each of our illuminated keyboards can be delivered not only in German layout but in all common keyboard layouts and languages. Because all of our solutions are specially designed for harsh environmental conditions and industrial applications, we guarantee raw robustness and exceptional durability. Our solid workmanship and high quality are underlined by waterproof variants (protection class IP65).
All of our keycaps are ergonomically shaped so that the fingers come to rest on the middle of the keys. Furthermore, our long-stroke versions enable precise pressure behavior and very precise tactile feedback. This pleasant, comfortable and quiet keystroke on all of our mechanical illuminated keyboards enable fatigue-free working, even under difficult temperature conditions (0… 60 ° C).
Variants