24 March 2020 | Success Stories
World-leading Danfo chose IoT solution from Recab
Public toilet specialist Danfo, based in Nora in Sweden, is a world-leading expert on communal sanitation solutions and was founded by Nobel Industries in 1969. Danfo's bespoke toilets for public spaces are complex facilities that demand high-quality technical solutions.  Danfo has chosen Recab's products and services to ensure reliable automated, remote controlled IT solutions.
World-leading Danfo chose IoT solution from Recab
– We chose Recab for their overall solutions, says Ola Sjöstedt, project manager at El & Automation in Nora, who is responsible for the installation in Danfo's toilet facilities.
Compact and reliable router
The 3G/4G router EBW-L100 is a compact, industrial router that was chose for the Danfo toilet units.. The router has an in-built firewall, handles different types of VPN solutions and fits on a DIN rail. In short, it is a reliable and easily fitted hardware solution that can be upgraded to suit future needs.
– The router is simple to install and takes up very little space, Ola Sjöstedt.
 Cloud solution for automated distance control
In addition to the hardware solution, Recab has also delivered an INSYS VPN solution that suits Danfo's needs. The INSYS icom Connectivity Suite is a reliable, cloud-based service that is easy to use. Many of Danfo's toilet facilities are stationed abroad, and accessing units remotely cuts down on travel and therefore saves time and reduces the environmental impact.
– The cloud-based service is very stable. We get regular service updates from INSYS, says Ola Sjöstedt who – thanks to the cloud solution – can manage software updates and support local technicians remotely.
icom Connectivity Suite​ (molntjänst)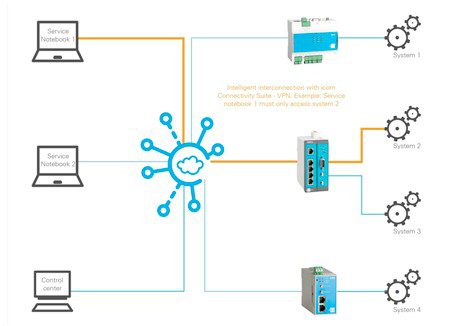 High safety standards
Adding a fire alarm or a payment solution are examples of services that can be managed remotely. In addition to installing an alarm that detects heat, fire or open doors, it's also possible to access relevant statistics remotely.  The router together with the VPN solution are used in approximately 150 public toilet facilities around the world.
– Recab has been a good partner. The products are delivered on time and we receive good support when we need it. Technology is rapidly moving forward and in the future we'll see even more digitalised solutions, says Danfo product manager Magnus Appelgren.
SPECIFICATIONS
EBW-L100 3G/4G​ (hardware/router)
Compact
Router and switch in a single unit
Security: VPN and in-built firewall
2-port switch with 10/100 MBit/sec
Integrated Linux software
Fast start for INSYS Connectivity Suite
icom Connectivity Suite​ (cloud-based service)
VPN solution for secure, private networks
Primarily designed for "always online" systems
The service is administrated through a crypted website
Automatic updates
Several alternatives for hardware solutions (GPRS, 3G/4G, ADSL, Ethernet, WiFi, NET1 450 MHz
A 30-day free test period
Links:
Danfo – www.danfo.se
El & Automation i Nora – elautomation.nu/
Text: Jimmie Öbom
Photo: Danfo
Do you want more information about our projects or products, contact us

Please fill out the form for more information