16 September 2020 | Marketing
Recab is now a proud partner of Total Defence Group (TDG)
TDG has a proven track record of complete upgrades of complex defense products i.e the CV9030N Mk III program. NTNU/CCIS and SINTEF Manufacturing are also adding important knowhow to the group. Recab is now a proud partner of Total Defence Group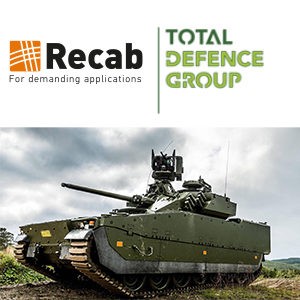 Recab is now a proud partner of Total Defence Group (TDG)
Bjørn Espen Aase, Managing Director, Recab Norway: As part of TDG, Recab will contribute with innovative technology in digitalization of military vehicles. This is an important contribution in strengthening the Norwegian industry in supporting the Armed Forces with relevant and modern equipment in order to contribute to a higher operational strength.
Total Defence Group's Chairman – Rune C Vamråk is very pleased with the newest partner, Recab have already contributed in the revived DIGITAL DIVISION in TDG. There will be many defence projects in the coming years which will need specialized competences, digital solutions and Recab's track record is very important for broadening the group's capacity."
– Recab will definitely strengthen the digital competences in the group and add very useful experiences into our TEAMS fighting for defence contracts. Recab is now a proud partner of Total Defence Group (TDG)
Link to Total Defence Group
Link to Recab Defence & Avionics
For more information please contact:
Bjørn Espen Aase – Managing Director, Recab Norway
+47 95 05 95 15
bjorn.espen.aase@recab.com
---
About Recab:
Recab is a Nordic IT company with headquarter in Stockholm. We are part of the Addtech Group,
a listed technology group with over 2900 employees in 130 companies and with more than 10 billion DKK in turnover. Recab develops innovative embedded computer systems, industrial communication, machine vision & sensors for demanding applications.
Our main markets are defence & avionics, maritime/offshore, energy, transportation, communications, industrial automation, and science. We support world leading customers, and cooperate with world leading partners & suppliers, and world class quality is mandatory for what we provide. We are ISO9001:2015 and ISO14001:2015 certified, and we continuously seek innovation, and systematic quality improvements.