23 November 2020 | Marketing, Technology
Recab Smart City:
Develop flexible sensor-platform, and OT infrastructure to Smart Winter Roads project
Recab will develop and deliver a flexible sensor-platform, and OT* infrastructure to Smart Winter Roads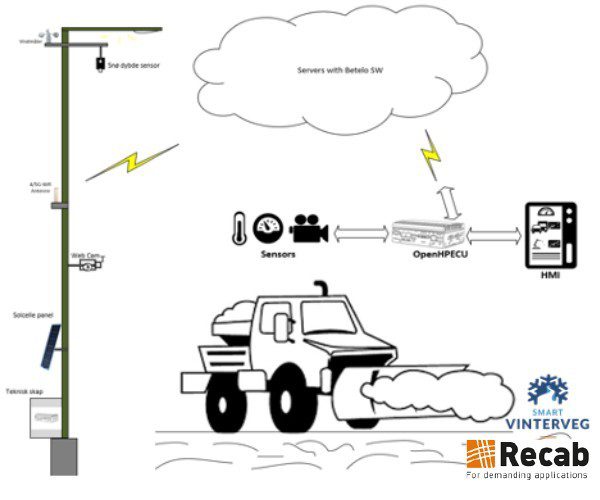 Recab will develop and deliver a flexible sensor-platform, and OT* infrastructure to Smart Winter Roads project: Recab are going to develop the hardware, that will consist of a rugged Smart City sensor platform that can accommodate a variety of sensors and/or cameras for acquisition of environmental data like precipitation, temperature, humidity, wind force, etc. The project will also develop solutions for the public, to provide real-time local weather information and driving conditions.
A vehicle mounted sensor platform will also be developed for integration into the equipment carriers. This unit will gather relevant data from the vehicles themselves and the mounted equipment. Analysis of this data will provide the operators with information on the condition of the equipment in addition to documentation on the quality of the service.
Read more about the Smart Winter Roads project:  www.smartemjøsbyer.no
Read more about the Recab Engineering Team: www.recab.com/engineering

Contact Recab:
Trond Halden  – Project Manager / FAE, Recab Norway / +47 48145924 / trond.halden@recab.com
Contact: Smart vinterveg
Pål Godard – Assistant Project Manager / + 94 81 90 17 / pal.godard@gjovik.kommune.no
Contact:  Betelo AS
Jostein Bjørkøy – General manager / + 92 20 52 81 / jostein@betelo.no
Hjemmeside: www.betelo.no
*"Operational Technology, or OT, is a critical network segment used by businesses that produce goods or deal in physical processes. Industries like manufacturing, chemicals, oil and gas, mining, transportation, and logistics all use specialized technologies to run things like assembly floors, production yards, and energy grids. The control, monitoring, and management of these systems have been progressively automated over the last few decades, and the specialized systems that perform these tasks are variously called Industrial Control Systems (ICS), Supervisory Control And Data Acquisition (SCADA), or simply OT."

About Recab:
Recab is a Nordic IT company with headquarter in Stockholm. We are part of the Addtech Group,
a listed technology group with over 2900 employees in 130 companies and with more than 10 billion DKK in turnover. Recab develops innovative embedded computer systems, industrial communication, machine vision & sensors for demanding applications.
Our main markets are defence & avionics, maritime/offshore, energy, transportation, communications, industrial automation, and science. We support world leading customers, and cooperate with world leading partners & suppliers, and world class quality is mandatory for what we provide. We are ISO9001:2015 and ISO14001:2015 certified, and we continuously seek innovation, and systematic quality improvements.