01 April 2020 | Marketing
Recab is expanding
Recab was established in 1996, and after soon to be 25 years of success delivering innovative solutions for demanding applications, Recab has through earlier acquisition by Addtech evolved the business further together with the English sister company Diamond Points International (DPIE). On the 1st of April 2020 Diamond  Point International will change name to Recab.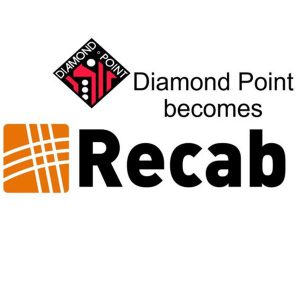 – We welcome DPIE to Recab and look forward to evolving together as companies through exchange of competence and the possibilities of new businesses, says Carolin Burlin, CEO of Recab. Martin Frederiksen, CEO of DPIE, will continue to operate the business in the UK as part of the Recab Group. Recab is expanding
In 2018, Recab merged with Metric Industrial and acknowledged the long-term opportunities to expand further through additional acquirements and therethrough strengthen the offer available for customers. The current customer stock includes companies such as Flir, DeLaval, Mycronic and Scania.
About Recab:
Recab is a Nordic IT company with headquarter in Stockholm. We are part of the Addtech Group,
a listed technology group with over 2900 employees in 130 companies and with more than 10 billion DKK in turnover. Recab develops innovative embedded computer systems, industrial communication, machine vision & sensors for demanding applications.
Our main markets are defence & avionics, maritime/offshore, energy, transportation, communications, industrial automation, and science. We support world leading customers, and cooperate with world leading partners & suppliers, and world class quality is mandatory for what we provide. We are ISO9001:2015 and ISO14001:2015 certified, and we continuously seek innovation, and systematic quality improvements.
Our vision is 'Enabling World Class Applications'!
For more information please contact:
Carolin Burlin, CEO
Carolin.burlin@recab.com