12 November 2020 | Event, Marketing, Technology
Recab free webinar:
Vision, systems and sensors
What opportunities arise when we equip our machines with the ability to see and feel? Welcome to a webinar in cooperation with the association Automations Region and IFM Electronic.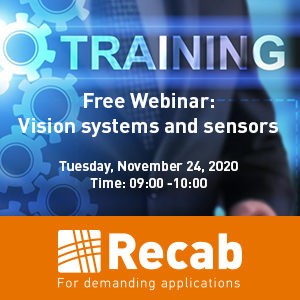 Recab free webinar – Vision systems and sensors :
Klas Bengtsson, Technical sales, Vision and ID at Recab describes the market for vision systems and sensors. Which techniques are most used today, which are in progress and which are expected to disappear?
Jonas Lindgårde, Vision & Support manager, and Hans Eliasson, CEO of IFM Electronic, show how sensors and sensors can create value when the industry is digitized. They provide examples of areas of use and highlight opportunities with new technology such as 3D cameras.

Practical information
Date: Tuesday, November 24, 2020
Time: 09:00 to 10:00
Click here for registation
The webinar the webinar is held in Swedish, for an English version or other questions, please contact Klas Bengtsson
Read more about what we at Recab can do for you in the area within
Sensors, ID and Vision – Projects and products.
Link to the association Automation Region
Link to IFM Electronic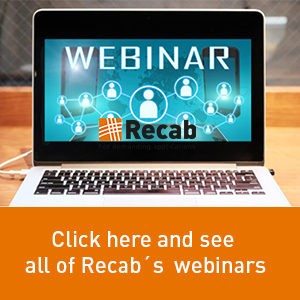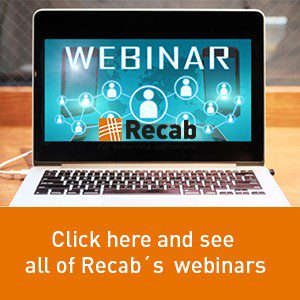 About Recab:
Recab is a Nordic IT company with headquarter in Stockholm. We are part of the Addtech Group,
a listed technology group with over 2900 employees in 130 companies and with more than 10 billion DKK in turnover. Recab develops innovative embedded computer systems, industrial communication, machine vision & sensors for demanding applications.
Our main markets are defence & avionics, maritime/offshore, energy, transportation, communications, industrial automation, and science. We support world leading customers, and cooperate with world leading partners & suppliers, and world class quality is mandatory for what we provide. We are ISO9001:2015 and ISO14001:2015 certified, and we continuously seek innovation, and systematic quality improvements.