LEMUR– Lite Managed Switches
The new LEMUR lite managed switch family offers the most advanced data rates for the price point, up to 11 ports, PoE/PoE+ options, IP30
protection and an extended temperature range of -40°C to +60°C.
• Cost-optimized design provides the best functionality for the price point, including full  gigabit Ethernet and compact housing.
• Essential features, plus high reliability delivers "set it and forget it" capability.
• Easy configuration and management using the intuitive HiEOS Hirschmann Entry Operating System graphical user interface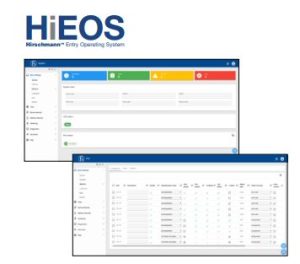 Cost-optimized, easy to use, secure
• Easy to use thanks to simple implementation and low maintenance requirements.
• Intuitive web interface allows users to configure and monitor without any special IT know-how.
• Enhanced security – developed in accordance with secure development lifecycle process IEC 62443-4-1.
• Power over Ethernet (PoE) and PoE+ options, offering up to 180 W power with no need for a separate power supply.
• High data rates with up to full Gigabit speeds and 7 copper ports, 3 SFP ports, and 1 SFP/ copper combo port
Your Benefits
As automation expands, powerful, ruggedized and cost-effective switches are a necessity. The   LEMUR lite managed switch family provides
sought-after features –full Gigabit Ethernet and PoE/PoE+ options – for a reasonable price point.
With up to 11 Gigabit Ethernet ports, LEMUR lite managed switches provide ample power and connectivity for complex industrial environments.
An intuitive graphical user interface makes setup and maintenance easy – with no special IT  intervention or knowledge required.
Applications
LEMUR lite managed switches are ideal for industrial applications that require compact, secure and ruggedized equipment. Developed in
accordance with IEC 62443-4-1, LEMUR switches meet cybersecurity standards for industrial automation and control systems environments.
Built on all-new, sophisticated HiEOS software, LEMUR switches support multiple communications protocols.
Markets
The LEMUR switch family suits many industrial applications, including manufacturing, machine building, food and beverage, automotive, and
consumer packaged goods, along with traffic control systems, train stations and airports.
Models:
LRS30-7TX/3SFP/1C
7x FE TX, 3x FE/GE SFP, 1x FE/GE Combo, 9.6-32 V DC, -40-+60°C, Lite ManagedLite Managed Rail-Mount Industrial Ethernet/Fast-Ethernet Switch with 7 x 10/100BASE-TX, 3x 100/1000BASE-FX SFP, 1x Combo (10/100/1000BASE-TX and 100/1000BASE-FX SFP), Store and Forward Switching Mode, HiEOS Layer 2 Software
Data Sheet
LRS40-7TX/3SFP/1C
7x FE/GE TX, 3x FE/GE SFP, 1x FE/GE Combo, 9.6-32 V DC, -40-+60°C, Lite ManagedLite Managed Rail-Mount Industrial Ethernet/Fast-Ethernet Switch with 7 x 10/100/1000BASE-TX, 3x 100/1000BASE-FX SFP, 1x Combo (10/100/1000BASE-TX and 100/1000BASE-FX SFP), Store and Forward Switching Mode, HiEOS Layer 2 Software
Data sheet 
LRS42-7TX/3SFP/1C
7x FE/GE TX, 3x FE/GE SFP, 1x FE/GE Combo, 46-57 V DC, -40-+60°C, Lite Managed, PoE/PoE+Lite Managed Rail-Mount Industrial Ethernet/Fast-Ethernet Switch with 7 x 10/100/1000BASE-TX, 3x 100/1000BASE-FX SFP, 1x Combo (10/100/1000BASE-TX and 100/1000BASE-FX SFP), PoE/PoE+, Store and Forward Switching Mode, HiEOS Layer 2 Software
Data Sheet
LRS32-7TX/3SFP/1C
7x FE TX, 3x FE/GE SFP, 1x FE/GE Combo, 46-57 V DC, -40-+60°C, Lite Managed, PoE/PoE+Lite Managed Rail-Mount Industrial Ethernet/Fast-Ethernet Switch with 7 x 10/100BASE-TX, 3x 100/1000BASE-FX SFP, 1x Combo (10/100/1000BASE-TX and 100/1000BASE-FX SFP), PoE/PoE+, Store and Forward Switching Mode, HiEOS Layer 2 Software
Data Sheet