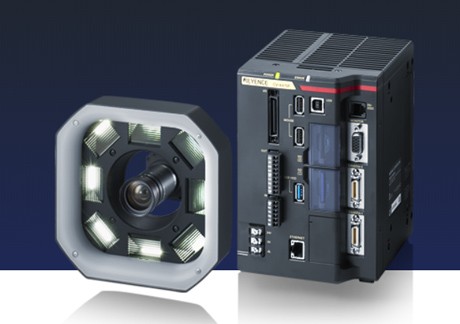 The Keyence CV-X400 is a series of vision systems designed to improve, simplify and raise the quality standards of manufacturing processes.
The system gives you the opportunity to make advanced and reliable inspections by creating a 3D image.
---
The system allows you to check:
Presence/Absence detection
Defect inspection
 Measurements
Identification OCR / ID
Unique color inspection with multispectrum
Available for purchase in Sweden & Norway
The system can be expanded to use four cameras per control for 100% inspection/view from different angles. The CV-X400 series has camera support for VGA, 2M, 5M, 21M and support for Keyence LJ-V series of profile lasers. The X400 series have the highest DSP (processing speed) of the CV-X series with 3 cores (X400/ X420/ X450) or even 7 cores (X470/ X480). This series have the highest in image memory reaching 16GB.
CV-X400 series have support for the latest light modules, LumiTrax (easy surface defect), MultiSpectrum (unique color inspection) and Pattern Light (create 3D image).
In proud collaboration with Keyence
Recab offers range of different products within the field of laser displacement sensors. Recab are proud of collaborate with Keyence to be able to provide the best laser displacement sensors on the market. Keyence is a leading supplier of sensors, measuring systems, code readers, anti-static and machine vision systems worldwide. Keyence strives to develop innovative and reliable products to meet the need of customers all over the world in every manufacturing industry.
We are happy to help you find the vision system model best suited for your application, so do not hesitate to contact us with your questions.
🔶  We have products, solutions & support for your daily business,  see our successful applications or read more about our Engineering capabilities