04 May 2020 | Marketing, Products
Recab: Your Leading partner in the Data Communications Industry
Let us be a part of your forthcoming infrastructure - We produce high quality goods for straightforward environments like building automation – but also demanding locations requiring robust equipment.
We have collected a selection with our products for the Data Communications Industry.
Our experts in the field will help and guide you if you wish. What are your needs, fill out the form below and we will contact you – or try our chatt down in the right corner for a direct contact with our experts.
SCR – the essential 
Focused on the basics
The routers of the SCR series are IoT gateways of the special kind. They provide latest technology in a compact, flexible mountable housing for a very attractive price. The SCR series is available in LTE and LAN versions, both optionally as I/O variant. Users can connect both, IP-based and serial devices, to this Smart Device locally. This allows to transform elder existing plants in modern IT environments with a retrofit. Contact us for more info.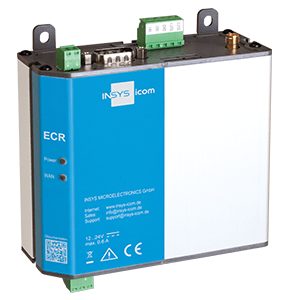 ECR – the all-rounder
All-purpose with universal mounting options.
The routers of the ECR series provide all important interfaces for realizing extensive applications from remote services to IIoT. Both, the LAN and the LTE variant provide Wi-Fi for an operation as access point for local connection or as client for integration into an IT infrastructure. The LTE version offers cellular redundancy via dual SIM and fall-back to 4G/3G/2G. Contact us for more info.

MRO – the big brother
Power pack for cellular applications
Latest technology and high performance combined in a compact housing characterize the professional routers of the new MRO series. Besides its 4-port switch, an RS232 interface as well as digital inputs and outputs are available. With the integrated icom SmartBox, a Linux environment based on LXC technology, the router provides an operating system-independent platform, for example for local storage and processing of data or executing further programs and scripts (edge computing). Like all routers of INSYS icom, the devices of the MRO series are also characterized by high system stability, longevity and consistent user guidance. VPN, a stateful firewall and many other security features like event-based messages provide for security  – for your Data Communications Industry. Contact us for more info.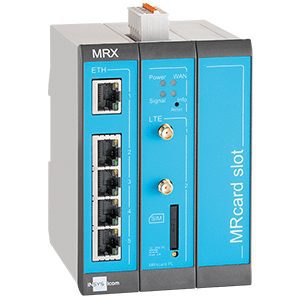 MRX – the flexible power
High-performance and convertible for individual solutionsThe smart MRX routers combine KRITIS (critical  applications) level IT security, state-of-the-art technology, high computing power, sophisticated administration and programmability. Freedom of design – Changing requirements require flexible solutions. The modularity of the MRX router series allows you to assemble a custom router for each individual application. Extension options – The basic variants DSL, LTE and LAN are each available in two housing widths and have two digital inputs. Modular plug-in cards (MRcards) with additional interfaces can be added as required. In addition to the standard models, customer-specific MRcards can also be developed. Future proof – With the plug-in cards for the MRX router you will also be on the safe side in the future, because we are constantly expanding our range. This means that in the case of technology upgrades, e.g. to 5G, you can expand your router efficiently and at low cost. Contact us for more info.

Connectivity Suite – VPN
Transparent remote access to machines and plants
With the icom Connectivity Suite – VPN, INSYS icom offers a managed service that enables OpenVPN-enabled routers, PCs and other devices to communicate in a secure VPN environment.
The integration and administration of the devices is very simple: Configuration files and certificates are generated by the service and, automatically uploaded to INSYS icom routers thanks to the Quick Start Wizard.
You neither require your own infrastructure nor an IT specialists. The highlights make the icom Connectivity Suite – VPN much more than a simple VPN service. Contact us for more info.

icom Data Suite – Turns your router into a powerful IoT gateway
The icom Data Suite turns your router based on the IoT operating system icom OS into a powerful IoT gateway. You'll get a comprehensive, flexible and scalable software package for connecting and processing data points. Extend the functionality for reliable and secure data transmission by data acquisition, moni-toring and control options for your application. Process your data directly on the Smart Device. Transmit them via SMS, e-mail, MQTT or HTTP to customer-individual infra-structures, SCADA and ERP systems or directly to cloud services. Visualize current values directly on the Smart Device or use processing options like logging, reporting and many more in the cloud. Control your application directly via SMS, from cloud platforms or from SCADA systems. Besides our direct cloud connectors (Cumulocity/Telekom Cloud of Things), the protocols MQTT, IEC 60870-5-104/-101 and OPC UA are also available. Contact us for more info.
Antennas and Cables
We have a wide range of different antennas. Everything from a simple magnetic foot antenna to strong directional antennas. We also work with extension cables with very high quality in different lengths. Contact us for more info.

Cabels
Every application looks different. Being able to adjust the length of your antenna cable is important. Both not to have too long but also to reach as far as you need. We offer a super low loss cable, called YE50. We offer cables of any length and with any connector  – for Data Communications Industry.
Contact us for more info
Link To Success Case – Customer Danfo AB
Link to Danfo: 
Read more about Recab`s  business diversions
Do you want more information about our projects or products, contact our experts on Industrial Data Communication
Please fill out the form for more information