PH Data logger
Data loggers for measuring salinity, Dissolved oxygen and pH. All loggers also measure temperature.
Affordable pH data loggers from Onset. The logger measures pH and temperature in same logger. The loggers is suited for long term survalilance of pH values in streams, lakes and similar places. Unit communicates via Bluetooth, so the only tool you need is a modile phone or tablet with bluetooth to progamme or download data
Danish:
Prisbillig PH-datalogger fra Onset. PH og temperatur dataloggeren er beregnet til langtids overvågning af PH-værdier i åer, søer, floder og havet. Den kommunikerer trådløst via Bluetooth Low Enrgy(BLE) når enheden skal programmeres eller tømmes for data. Dette gøres via det gratis HOBOconnect eller HOBOmobile.
Features:
Guided pH calibration in HOBOconnect
Strong PVC housing for measuring in fresh- or salt water
Quick and easy data download and programming via Bluetooth BLA
Detect if logger are in water, so battery life and logger maintanence is reduced
Potentiometric pH electrode with plastic housing, and Anti-Biofouling  cubber protection
Accuracy ±0.10 pH unit within ±10°C of calibartion temperature
Range 2.00 - 12.00 pH
---
Dissolved Oxygen
Measure dissolved oxygen i stream, rivers, lakes and in the ocean. The U26-001 dissolved oxygen data logger from Onset is affordable and precise. The unit is using RDO Basic optical DO sensor technology. Loggers is also easy maintable.
Danish
Mål ilt indholdet i åer, søer, samt havet med Onset's prisbillige Hobo U26 Dissolved Oxygen datalogger. Enheden bruger RDO Basic (Rugged Disolved Oxygen) optiske DO sensor teknologi, og er samtidig let at vedligeholde.
Features:
Affordable Dissolved Oxygen (DO) measurement with an accuracy on 0.2mg/L
Optical DO sensor technology for longterm calibration and less maintanence
HOBOware PRO has a build in function for measurement corrections due to sensor fauling
Quick readout and programming with with optical base station
DO sensor easy replaceable
Dissolved Oxygen U26 dataloggeren from Onset, has been testet by Alliance for Coastal Technologies (ACT).
ACT has published an independable report of different DO data logger's and Onset's U26 managed well in this test. The test is performed both in the laboratory and in the field. You can find the report in the Product information below
---
Salinity loggers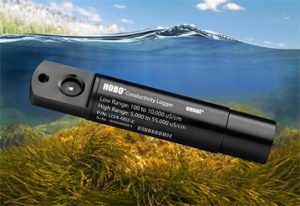 HOBO U24-001 and U24-002-C cost-effective data loggers for measuring salinity, conductivity and temperature in fresh- & salt-water environments Data from the logger can be used with data from the HOBO U26 Dissolved Oxygen Logger for monitoring percent dissolved oxygen saturation.
Danish:
HOBO U24-001 & U24-002-C er prisbillige datalogere til måling af ledningsevne og temperatur i vand. Loggerne fås i modeller til enten fersk- eller saltvand.
Data kan kombineres med data fra U26-001 DO dataloggeren.
Features:
Non-contact sensor provides long life
Provides easy access to sensor for cleaning and shedding air bubbles
Two user-selectable ranges (values depend on type)
The Delrin housing will not corrode in saltwater
HOBOware Pro software enables start/end-point calibration to compensate for any fouling and provides easy conversion to specific conductance and salinity
USB optical interface provides high-speed, reliable salinity data offload in wet environments
Compatible with the HOBO Waterproof Shuttle for easy and reliable data retrieval and transport