25 March 2020 | Products
Launch: Wide Area Lumitrax™ Light from Keyence
Keyence LumiTrax™ technology combines ultra-high-speed CMOS sensors, partial illumination LED lightning and advanced inspection algorithms to detect features, shapes and text on even the most challenging surfaces.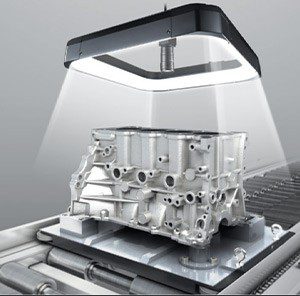 Wide Area Lumitrax™ Light Keyence
Controlled partial lightning from different directions enables capture of up to16 separate color or monochrome images, and then the relative brightness level of each pixel is analyzed to separate shapes (surface irregularity) and texture (pattern) images for processing.Keyence
Keyence new Wide Area LumiTrax™ Light with a size of 400mm enables stable and precise inspection of large targets for a wide range of purposes such as code and character reading, defect inspection and more.
Recab and Keyence
Recab offers a large range of different products within the field of laser displacement sensors. Recab are proud to collaborate with Keyence to be able to provide the best laser displacement sensors on the market. Keyence is a leading supplier of sensors, measuring systems, code readers, anti-static and machine vision systems worldwide. Keyence strives to develop innovative and reliable products to meet the need of customers all over the world in every manufacturing industry.
Link to Recab´s selection of Keyence products
Link to Keyence
For more information about Keyence or Recabs other products please contact us:
Klas Bengtsson / 0730-766 721 / klas.bengtsson@recab.com
Glenn Abrahamsson / 0702-355 685 / glenn.abrahamsson@recab.com
Ebba Sandgren / 0730-641 092 / ebba.sandgren@recab.com
---
About Recab:
Recab is a Nordic IT company with headquarter in Stockholm. We are part of the Addtech Group,
a listed technology group with over 2900 employees in 130 companies and with more than 10 billion DKK in turnover. Recab develops innovative embedded computer systems, industrial communication, machine vision & sensors for demanding applications.
Our main markets are defence & avionics, maritime/offshore, energy, transportation, communications, industrial automation, and science. We support world leading customers, and cooperate with world leading partners & suppliers, and world class quality is mandatory for what we provide. We are ISO9001:2015 and ISO14001:2015 certified, and we continuously seek innovation, and systematic quality improvements.